Standing there in the middle of the nowhere, high on a desert plain, I looked up in the sky. Over the mountains, which were just barely visible in the light of the full moon, is the infamous Area 51. Up there in the sky, there is a steady light. At first, I thought it was a planet. The light would stand still for a long time and then it would suddenly move and then stand still again. It changed color from a star-like white to more of a light amber and eventually change back. After moving around some more, it faded out or perhaps disappeared behind the wispy clouds.
I think my wife and I were the only ones that noticed. Much more exciting things were happening that night at the starting line of the ET Marathon. Perhaps I should start at the beginning.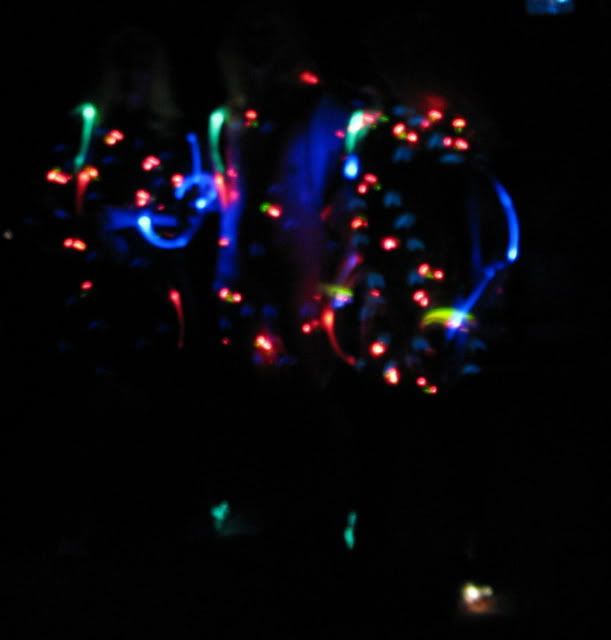 My wife and I arrived at the race headquarters hotel in Las Vegas about 7:30. The place was just packed with runners, all of them clustered around television sets, which were showing the Olympic Women's Marathon. While I wished we could stay to watch the race, I was very eager to set off for the starting line.
The race itself ends in tiny Rachel, Nevada, a small town on the edge of…well, nothing in particular. It begins 20 miles outside of Rachel at a site known as "The Black Mailbox." I am given to understand that the Black Mailbox was the only landmark out there and so those interested in Area 51 used it as a meeting spot. The mailbox is owned by a rancher who had to install a more sturdy one after all of the "interest" that was lavished upon it by tourists and others. The new mailbox is white, though it is still called "The Black Mailbox." Go figure.
We were taken by bus from Las Vegas to the Black Mailbox. This was about a 2 1/2 hour drive. There were murmurs of conversation for perhaps the first 1/2 hour, then the bus became quiet as most of the runners tried to get a little nap. It's not for nothing that this race is called a midnight marathon. Starting time would indeed be midnight for the 150 or so of us that signed up for the marathon.
When we arrived at the Black Mailbox, this is what we saw.
It took me a few minutes to figure out what exactly this was. The race organizers handed out glow necklaces as a safety measure, in addition to requiring a headlamp or flashlight and some reflective tape or a reflective vest. All of those strange things appearing to float in the darkness were just those necklaces around the necks of runners who had gotten to the start before we had. If the race was this strange and wonderful already, I knew I was going to have a good time.
We wandered around the starting line, looking around at the night, seeing those who had come in costume, including 3 who covered themselves in LED lights (pictured above), and tried to find the Black Mailbox (which was behind the table where they were giving out the necklaces and really looks like a bunch of boxes piled haphazardly on top of one another in the darkness). We received a race briefing from the lovely and gracious Joyce, race director and owner of Calico Racing. My wife, who was just along for the adventure and not the race, boarded the bus with the half marathoners (who started about 7 miles up the road from us) and would be waiting for me in Rachel.
And we were off. As I mentioned, the race was beautiful, surreal really, just at the starting line and it continued to be so throughout the race. There were some people ahead of me that had chosen to wear their necklaces other than on their necks. One of them wore it on the side of his (at least, I think it was a he!) racing shorts. Once he was about 50 yards ahead, it was very difficult to tell what that green glowing thing was or why it should be moving in the way it was moving. Another person wore their necklace in a hat band. It was like following a floating letter "C" thoroughout the evening.
My goal for the race was to run a 4:45 marathon, which would be a personal best and which would put me far up on the finisher's list based on last year's results. This was not to be. Even given that I could have trained better for this race in terms of being consistent in my long runs, the elevation of the race really worked against me. I ran the Tucson Marathon last year which begins at a high elevation (5000 feet or so) but which is mostly downhill. This race starts at 4500 feet and tops out at the half marathon point around 5600 feet.
For most of the race, I ran with 2 very nice ladies from Texas. We got together because they noticed I was running for 9 minutes and walking for 1 minute just as they planned to do. They were much more fastidious about stopping at aid stations. I had my hydropak and pushed on through them. They always managed to catch back up. From talking to them, they had been very faithful to their long runs and in fact had been doing back-to-back long runs on the weekends. I think they finished 20 minutes ahead of me. Nicely done, ladies!
And before I forget, nicely done, volunteers! I'm not sure who would volunteer to hand out water in the middle of nowhere, but those hardy souls have my gratitude. I hope they got something of an adventure out of it, too.
The first 5 miles are a false flat. I did well on my planned split times though I was breathing heavily and I couldn't quite figure out why. In addition to the obvious (altitude), I also had not done enough hill training and I hadn't taught myself to breathe more deeply or more often. Instead, I was running at an easy pace and using my "easy pace" breathing. This meant that I eased myself right into oxygen debt.
Miles 5-9 are at a slightly higher grade, around 2%. I continued to run with the ladies, sometimes losing them, sometimes being caught by them. There were 2 guys that I would catch while doing the run segment, then get right in front of them, then start walking when it was time and they would go right on past. I really don't like that about run/walk.
Around this time, I saw a really great shooting star. It was really bright and then it broke into 2 parts. I always feel blessed when I see things like that.
The serious part of the climb begins around mile 9, gets very serious (4% grade is serious enough for me, a flatlander) from mile 11 to just before the half marathon point. As one of the runners that blew by me on this part of the course remarked "At least you can't see what's ahead of you," meaning the entirety of the hill we were climbing. It did go on and on and had 2 or 3 different false tops, or what seemed like a top until you turned a corner to find yet more hill. I was mentally prepared for this because of the excellent course maps and elevation charts Calico had provided. I was not prepared for being in oxygen debt while doing the climb. I just couldn't get enough air. That meant lots of walking.
At last I make it to the half marathon point. The course is downhill from here but not really steep enough to help me gain speed to make up for the time I spent walking. I was also still just out of breath.
So I did the best I could, running as much as I could but walking much more than I had planned. You can see the bright lights of Rachel from a quite a distance away. In the dark, those lights get close only very gradually.
Here I am walking to the Mile 20 aid station.
I was listening to my Ipod to help the night miles pass. I never really felt sleepy on the course, perhaps due to the caffeinated gels I was eating. I saw my wife and began to sing her a love song, "Rapture" by iiO. She looked touched, while the guy staffing the aid station looked somewhat concerned. He gave me a drink and topped off my hydropak. Only 10K more to go.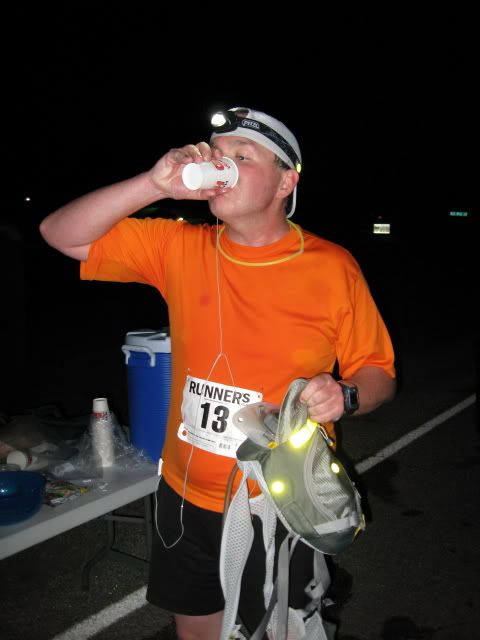 The marathon course now continues for about 5K out of Rachel and then another 5K back. If I had been running the half marathon, I would have just turned left for the finish line. Instead, I had to go out towards the flashing lights of a patrol car that marked the end of the course.
In the Boston Marathon (which I have never run but I have my dreams), they talk about the giant Citgo sign which never seems to get any closer. The lights of this patrol car are just the same. I think they stayed the same size or even seemed to get smaller as I approached! I'm pretty delerious at this point, singing songs, looking at the people passing by me as they head to the finish, on course for the 4:45 time I wish I had gotten.
It's starting to get light. My new revised goal (one of many) is to finish before sunrise. Now I'm turned back towards Rachel and I'm seeing people approaching me. As I look into the distance, I see a runner. I think he's approaching. But he's not! He's ahead of me. I think I might be able to catch him. I get that done around Mile 25.5. He tells me he doesn't have enough to stay with me, so I go on. Thanks to my efforts to catch him, I'm able to run from there through the finish. I cross the line in 5:42:11, just before sunrise.
I got my medal, which was really cool. We had already been given our really snazzy race shirts before the event. After that, I get a chance to go to breakfast at The Little A'Le'Inn which for me was a Coke because my stomach just wasn't interested in bacon and eggs. It was fun to see this place after seeing it so many times on television.
I gave Joyce my thanks and we hopped on the last bus for Vegas. My wife and I both had a really great time. What a fun event! I think we got back into Vegas around 10am. I think for a 14 hour event it was surprisingly cheap and very well worth it. I really hope I will get to do it again sometime.
PS – Please read my report on the ET Full Moon 51K also!